Where we highlight the auctions we have our eyes on that are ending soon.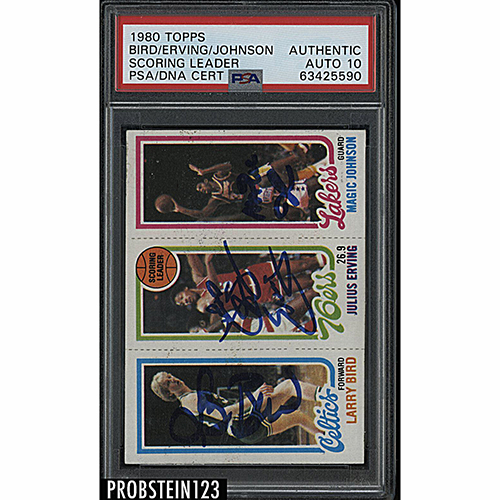 1980 Topps Larry Bird, Magic Johnson, Julius Erving Autographed Scoring Leader
Not only one of the most iconic basketball cards of all time, but also including autographs from all 3 players. This is considered the main rookie card for both Larry Bird and Magic Johnson, while also featuring Hall of Famer Julius Erving. The card has been deemed "authentic" and the autographs received a "10" grade.
BID NOW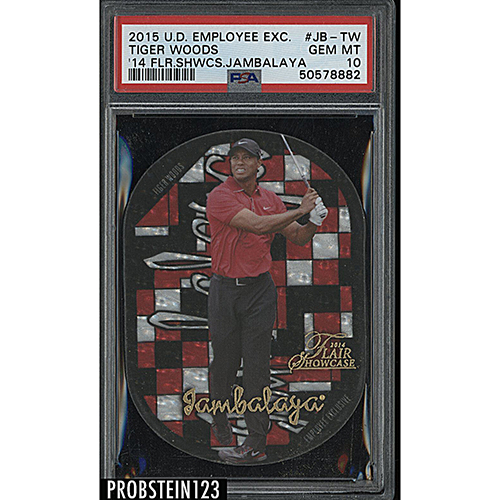 2015 UD Employee Exclusive Flair Showcase Jambalaya Tiger Woods PSA 10
One of the most popular basketball insert sets from the 90s, made its way to the golf course for this 2015 Upper Deck Employee Exclusive. The card displays legend Tiger Woods against the iconic insert background. Graded in PSA 10 "Gem Mint", this issue has a population of 7.
BID NOW
Lower Grades of Collectable Issues
1986 Fleer Michael Jordan PSA 7
While a lower grade than the copies featured on Collectable, this card remains one of the kings of the market. Featuring a young Michael Jordan taking flight, in PSA 7 "Near-Mint" condition this copy is one of just under 4,000 to receive that grade.
BID NOW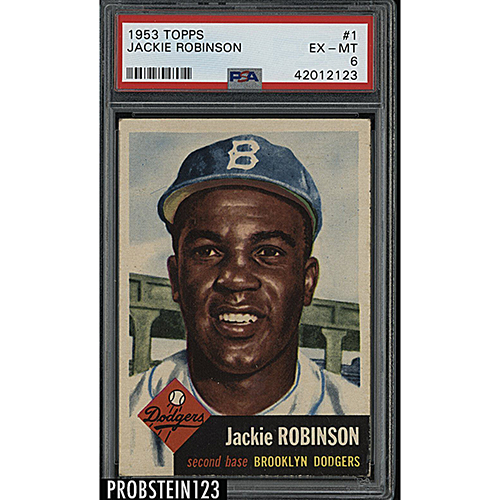 1953 Topps Jackie Robinson PSA 6
A beautiful early Topps card of the Dodgers Hall of Famer Jackie Robinson. In PSA 6 "Excellent-Mint" condition, this card has a population of 297, with 235 higher grades, including Collectable's PSA 8.
BID NOW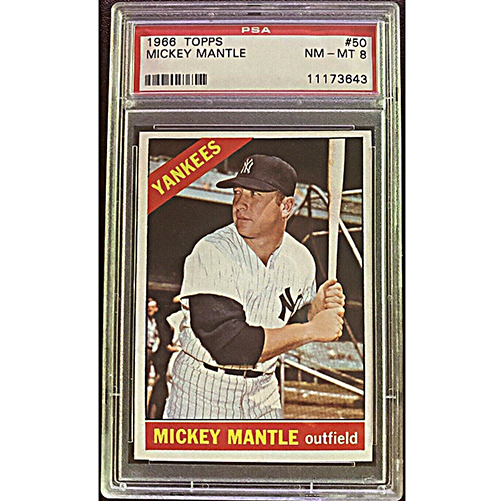 1966 Topps Mickey Mantle PSA 8
This late career Mickey Mantle Topps issue boasts great centering to go along with a PSA 8 "Near Mint-Mint" grade. Collectable is currently hosting 2 PSA 9s on platform.
BID NOW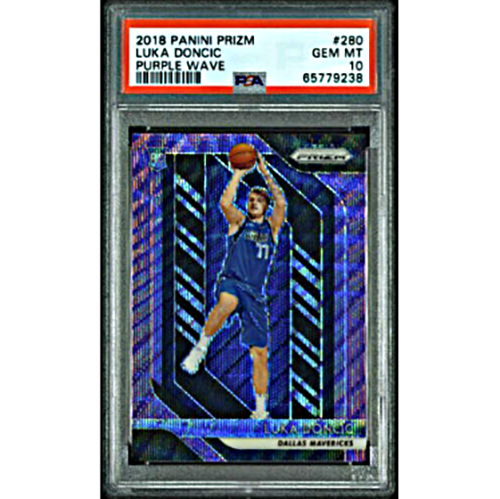 2018 Panini Prizm Luka Doncic Purple Wave PSA 10
While not technically a lower grade of the Blue Prizm on Collectable, this Purple Wave Prizm represents a lower end Luka Doncic Prizm rookie. This issue has a total PSA 10 population of 103, in contrast to the total PSA 10 population of 35 on Collectable's Blue Prizm.
BID NOW
2009 Bowman Chrome Draft Picks and Prospects Mike Trout Autograph PSA 8
A modern classic, this autographed card features a fresh out of high school Mike Trout. This particular copy received a PSA 8 "Near Mint-Mint" grade with a PSA 10 "Gem Mint" autograph.
BID NOW
2019 Bowman Chrome Prospects Julio Rodriguez Autograph PSA 10
Hailing from Bowman Chrome 10 years apart from the Mike Trout, we have this PSA 10 "Gem Mint" card of Mariners rising star Julio Rodriguez. This key issue for the hottest young player in baseball has been trending up over the past few weeks.
BID NOW
Football's Past, Present, and Future?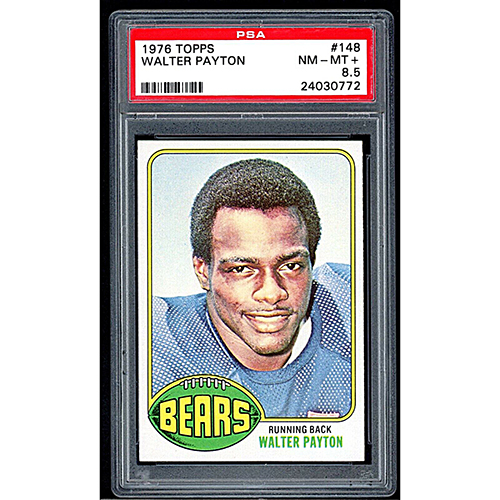 1976 Topps Walter Payton PSA 8.5
One of the greatest running backs of all time featured on this timeless Topps issue. This PSA 8.5 graded copy is part of a population of 135, with 908 graded higher.
BID NOW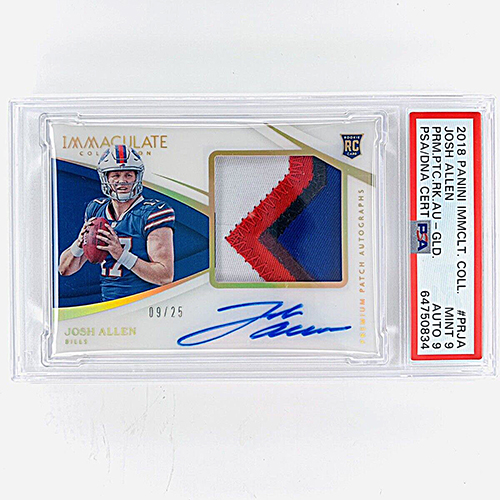 2018 Panini Immaculate Josh Allen Gold Rookie Patch Autograph /25 PSA 9
This gold rookie patch autograph features arguably one of the top 5 quarterbacks currently in the NFL, Bills gunslinger Josh Allen. In PSA 9 condition with a PSA 9 autograph, this card is population 1 with none higher.
BID NOW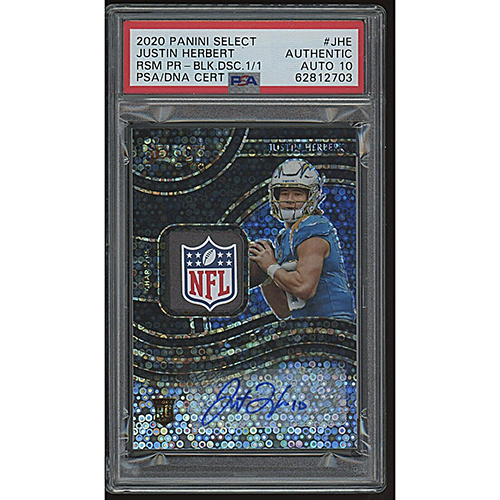 2020 Panini Select Justin Herbert Black Disco NFL Shield Rookie Patch Autograph 1/1
Shiny, NFL logo patch, 1/1, and an autograph? This card is certainly a unique option for those interested in Chargers franchise quarterback Justin Herbert.
BID NOW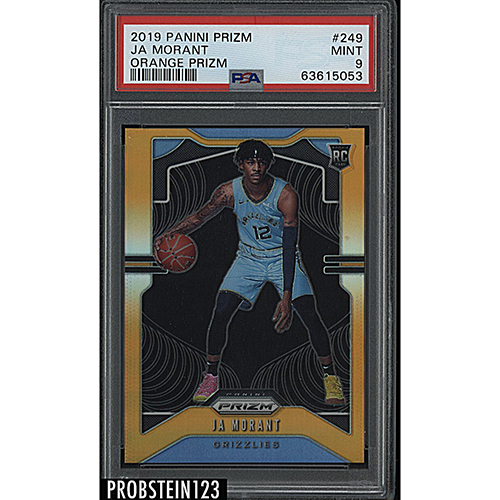 2019 Panini Prizm Ja Morant Orange /49 PSA 9
A low numbered Prizm rookie card of one of the NBA's brightest young stars. In PSA 9 condition, this card is part of a population of 11, with 8 higher.
BID NOW
1957 Topps Bill Russell PSA 3 Autograph
One of the most sought-after rookie cards in basketball, featuring Bill Russell's autograph in blue ink. This copy is one of only 67 ever signed by the NBA great.
BID NOW
2007 SP Rookie Edition Kevin Durant Autograph PSA 10
A rarely seen PSA 10 "Gem Mint" condition rookie autograph issue of Kevin Durant. KD sent the NBA world spinning with his recent trade request, leaving everyone wondering where the superstar will be suiting up next season. In PSA 10 condition, this card has a population of 50.
BID NOW